Action
Take your favorite Visoanska products even in the smallest hand-luggage. This set contains:
Supreme Eye Potion: Helps to: diminish visible signs of aging / regenerate and repair cellular damage / reduce under-eye puffiness and dark circles.
Hypnotic Eye Potion: Immediate skin-lifting effect / Corrects and brightens dark circles / Prevents visible signs of skin aging / Decreases wrinkles volume up to 47% in 15 mn.
Elixir Perfecteur
: Regenerates and repairs past acne marks / Gradually evens out texture / Stimulates cellular renewal.
Source Première: Cleanes / Purifies / Balances / Regenerates.
VV5 Solution: Helps to: energize and vivify skin / boost hydration for 24 hours / diminish visible signs of fatigue / soothe and illuminate.
Solution Anti-Imperfections: Corrects the look of enlarged and clogged pores / Reduces the appearance of shine and redness / Optimizes cellular renewal / Evens out the complexion.
Age Slowing Solution: Helps to: improve skin firmness and density deep-down / lift and reshape facial contour / correct the appearance of deep wrinkles.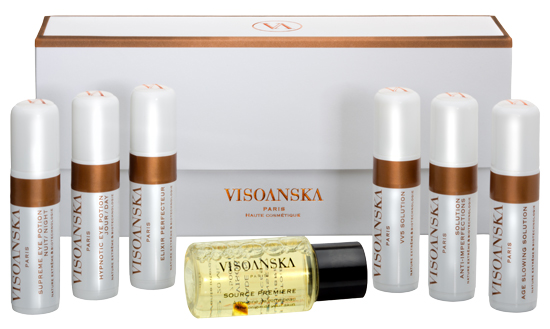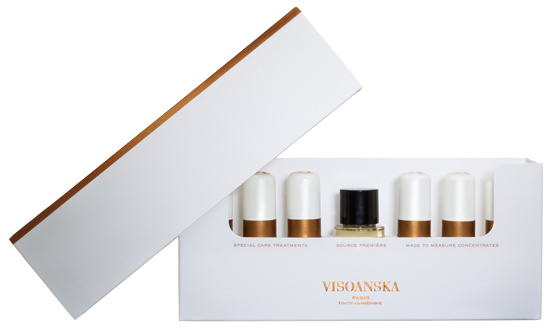 Application
Application of Supreme Eye Potion
Application of Hypnotic Eye Potion
Application of Elixir Perfecteur
Application of Source Première
Application of VV5 Solution
Application of Solution Anti-Imperfections
Application of Age Slowing Solution
Actives
Actives of Supreme Eye Potion
Actives of Hypnotic Eye Potion
Actives of Elixir Perfecteur
Actives of Source Première
Actives of VV5 Solution
Actives of Solution Anti-Imperfections
Actives of
Age Slowing Solution
Results
Results of Supreme Eye Potion
Results of Hypnotic Eye Potion
Results of Elixir Perfecteur
Results of Source Première
Results of VV5 Solution
Results of Solution Anti-Imperfections
Results of Age Slowing Solution
Reviews