action
Anti-wrinle, lifting, firming
Concentrated and intensive repair to fight the effects of time by filling in wrinkles*, stimulating skin firmness and slowing the effects of skin aging. It helps reinforce the density and firmness of your skin to redefine the contours of your face. This solution contains a muscle relaxing sea plant, rich in polysaccharides, that inhibits muscular
contractions and replenishes your skin for an immediate anti- wrinkle result. An innovative ingredient rich in biopeptides reduces the appearance of deep wrinkles by slowing tissue breakdown and stimulating repair of the extracellular matrix. Complexe Longévité Extrême increases cell lifespan, for a more youthful appearance of the skin.
*Effectiveness proven by in vivo tests
Dermatologically tested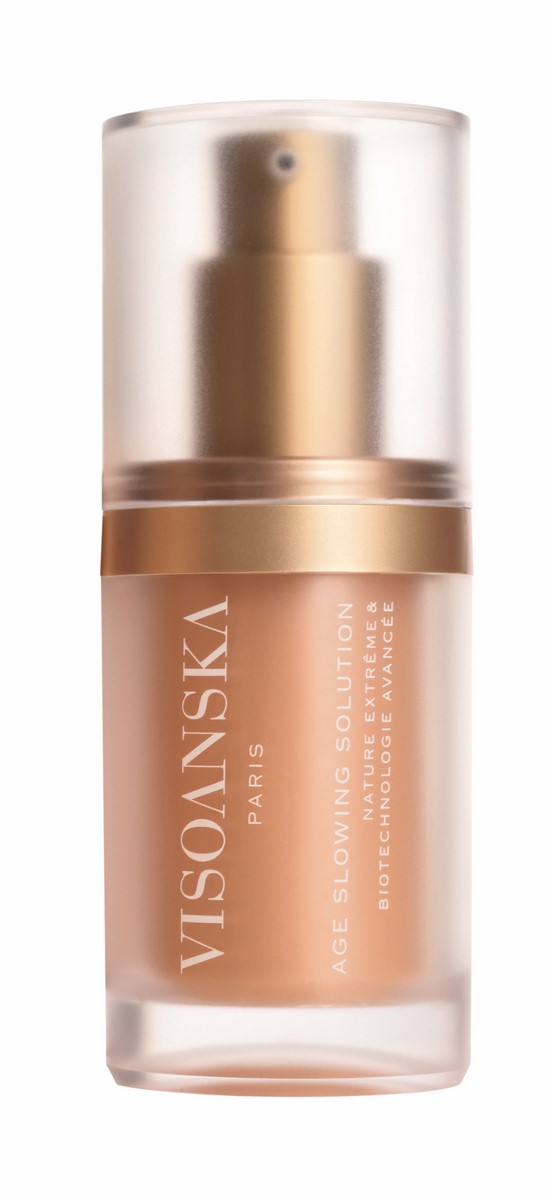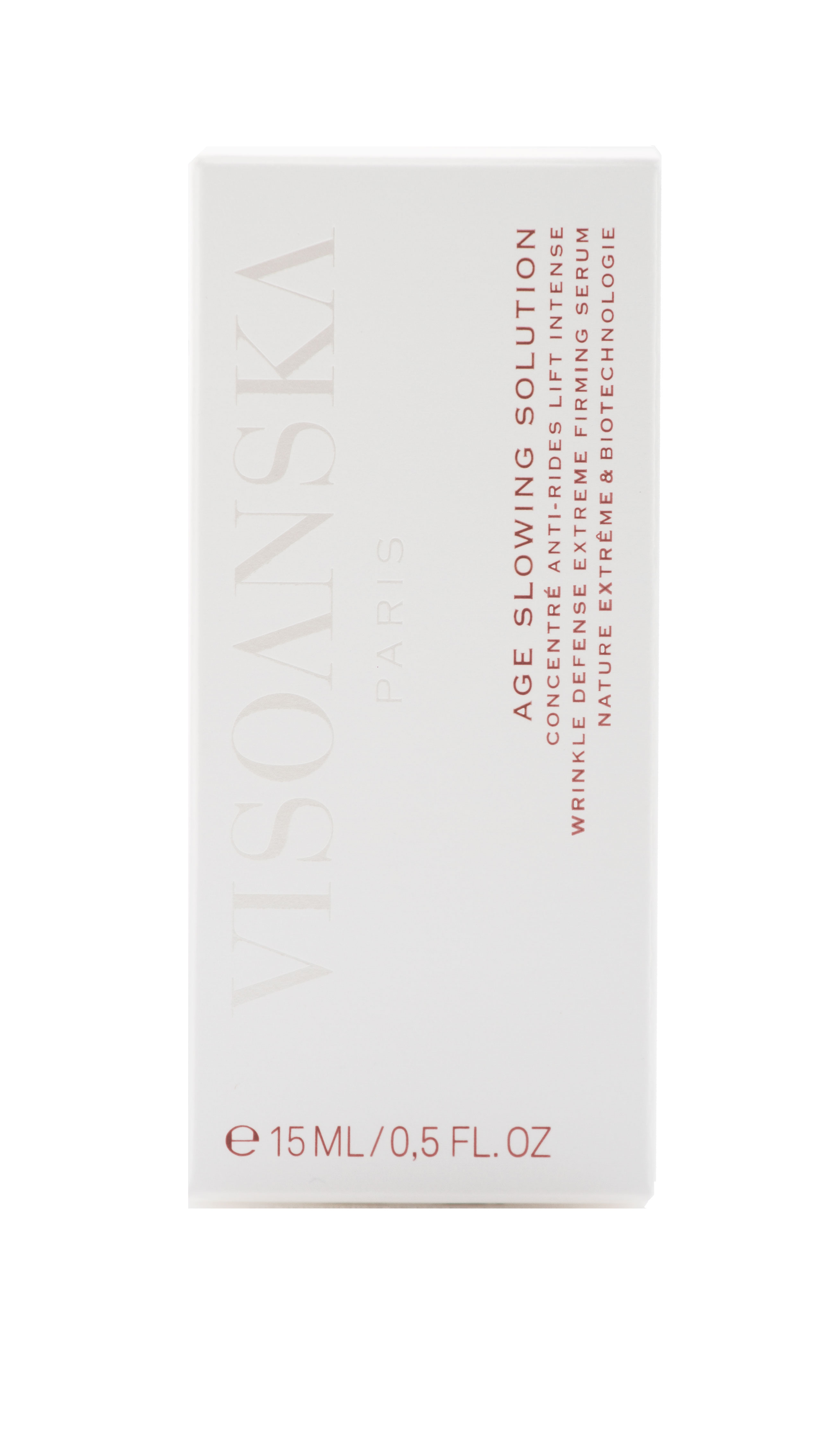 application
Apply AGE SLOWING SOLUTION under your daily VISOANSKA formula. If climatic conditions allow, you can also use them on their own for targeted action. The lifting texture smoothes out your skin.
Apply morning and/or evening to your clean face and neck. Lightly smooth in in repeated upward motions from the middle of your face outward to the temples, without stretching the skin.
Actives
32 specific active ingredients (40% of the product), 9 patented technologies.
87% of natural-origin ingredients.
Made in accordance with the Natural Luxury Code of VISOANSKA.
Specific actives :

All excluded molecules :
Benzoates/benzophenones, BHT (Butyl-HydroxyToluene), Formaldehyde and molecules that release formaldehydes, Diazolidinyl Urea, Diethanolamine , Silicones, Colors (FD&C Colours), Hydroquinone, Hydroxymethyl glycinate, Imidazalidol urea, Lanolin, Laureth, EDTA, Compounds containing chlorine, Aluminum and Ammonium, Compounds derived from petrochemicals, Mineral oils, Monoethanolamine, Chemical sunscreen (PABA, Ethylhexyl methoxycinamate…), Synthetic perfumes, PEG, Phtalates, PVP, Sodium Lauryl Sulfate, Parabens and phenoxyethanol, Triclosan, Triethanolamine.
Results
Effectiveness measured on 20 women between 45 and 70 years for 42 days.
Improves elasticity, restructures the skin microrelief (decreases wrinkles), increases firmness.
Women have found:
smooth (63%) and pleasant (100%) texture
immediately after application sensations of well-being (84%), softness (79%) and comfort (74%) and during the day sensations of softness (84%) and hydration (58%).
their skin smoother (74%)
their skin more toned and hydrated (69%)
their skin softer, more elastic and has improved in quality (68%)
their skin firmer, fresher, more beautiful (63%).
Reviews