Action
Mature skins
Ideal for skins showing advanced signs of ageing, this highly concentrated formula durably slows down cutaneous ageing and smoothes out the visible signs of time. The alchemy of biometic actives and molecules extracted from adaptogenic plants, inhibits muscular micro-contractions, reduces the depth of wrinkles* and redensifies your skin by stimulating the network of collagen and elastin fibers thus firming your face contour.
Vegetal stem cells combined with powerful biotechnological actives fight effectively against brown spots and restore your skin youthful glow. Thanks to its powerful anti-radical and anti-oxidant properties, the Complexe Longévité Extrême teaches your skin to resist external aggressors and defend the integrity of your DNA** against pollution.
*Proven effectiveness in vivo / **Proven effectiveness ex vivo
Dermatologically tested.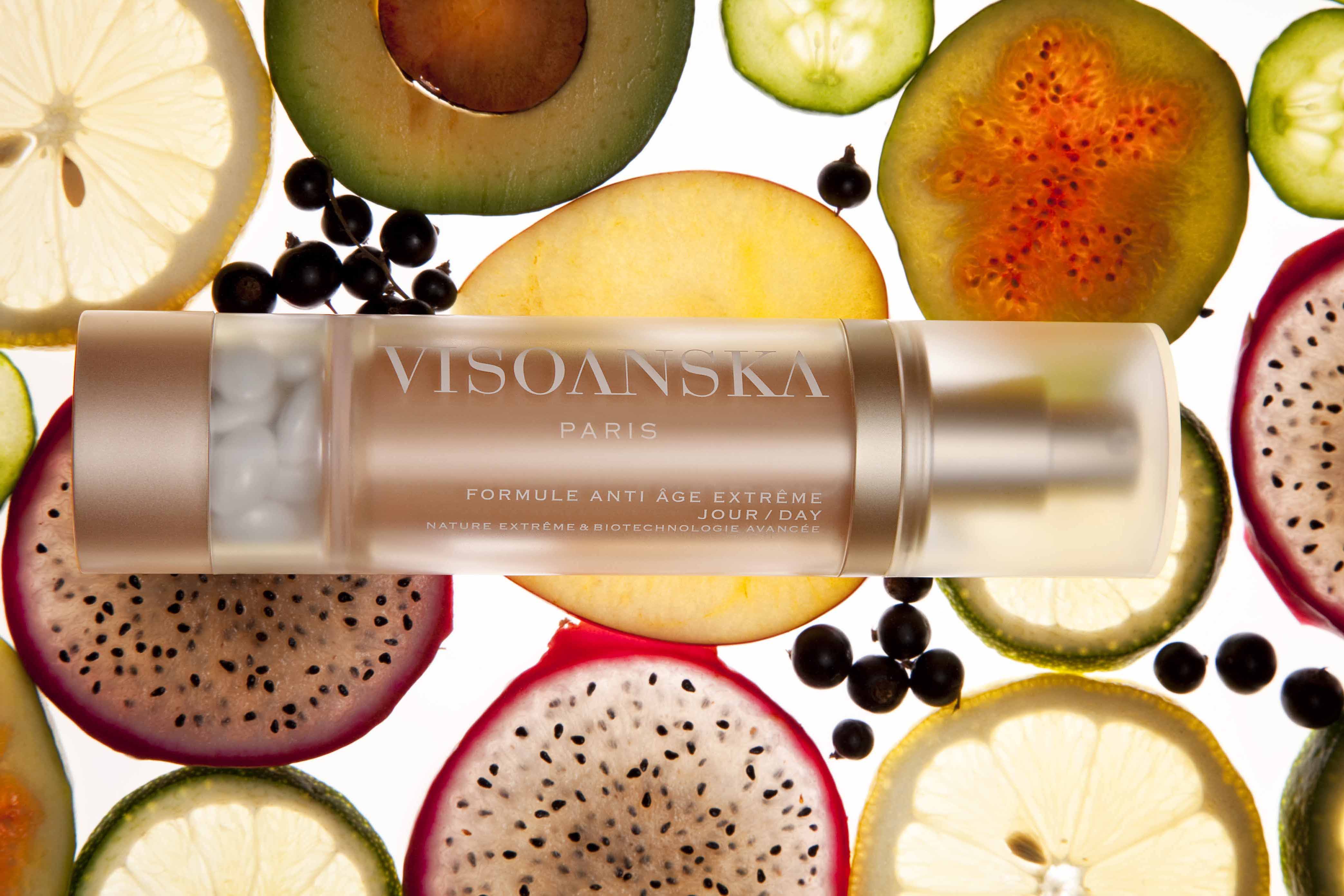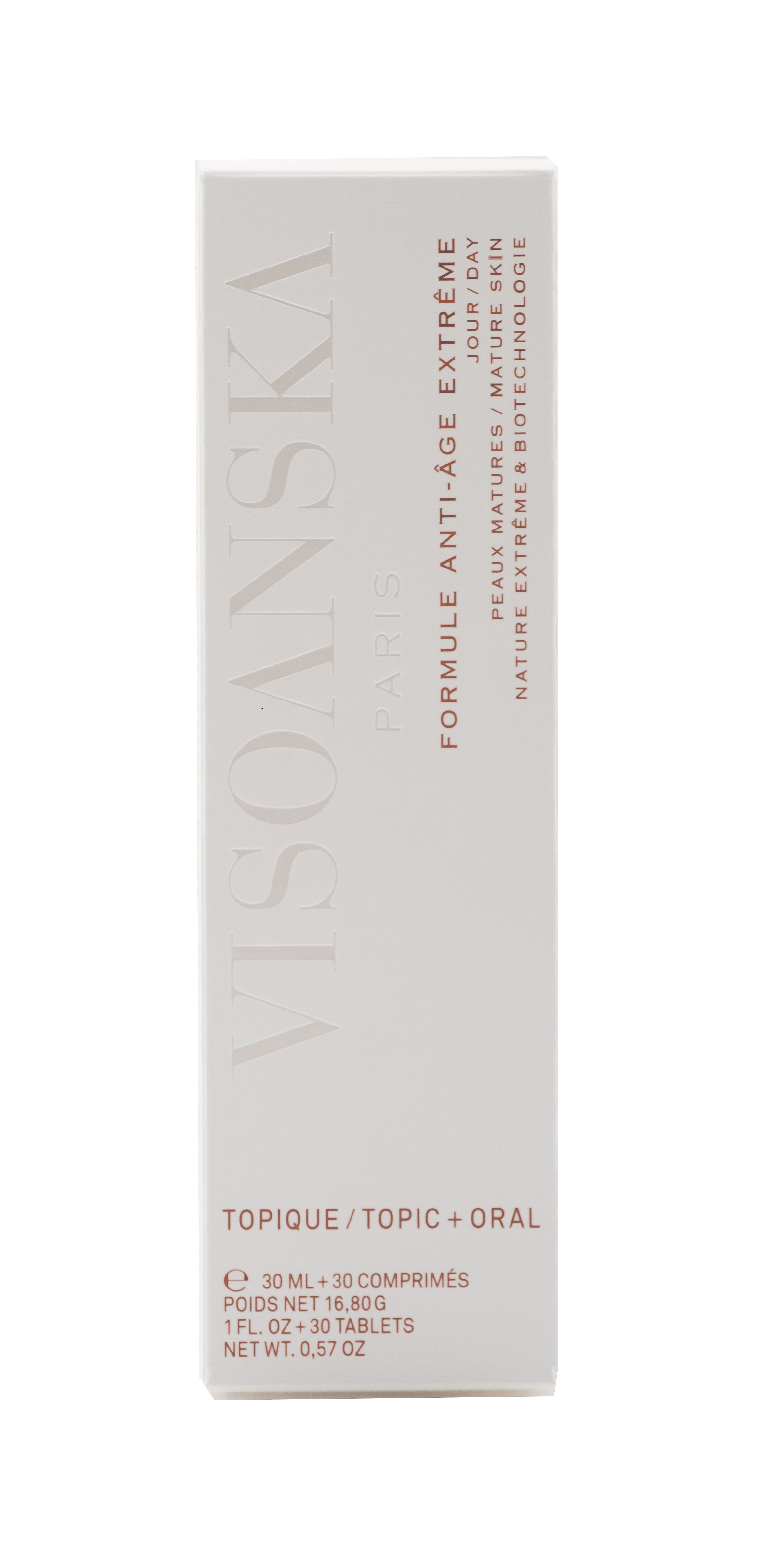 Application
In the morning, apply 2 to 3 doses of cream to your clean face and neck. Lightly smooth in in circular motions starting from the center of your face working outward to the temples. Take one tablet with breakfast.
For best results, continue the regimen in the evening with our Formule Longévité Cellulaire - Night.
Actifs
Its rich texture, created for mature skin, enhances the beauty of your complexion.
29 specific active ingredients.
9 patented technologies.
84% of natural emulsifiers and natural fragrance.
Made in accordance with the Natural Luxury Code of VISOANSKA.
Specific actives:

All excluded molecules :
Benzoates/benzophenones, BHT (Butyl-HydroxyToluene), Formaldehyde and molecules that release formaldehydes, Diazolidinyl Urea, Diethanolamine , Silicones, Colors (FD&C Colours), Hydroquinone, Hydroxymethyl glycinate, Imidazalidol urea, Lanolin, Laureth, EDTA, Compounds containing chlorine, Aluminum and Ammonium, Compounds derived from petrochemicals, Mineral oils, Monoethanolamine, Chemical sunscreen (PABA, Ethylhexyl methoxycinamate…), Synthetic perfumes, PEG, Phtalates, PVP, Sodium Lauryl Sulfate, Parabens and phenoxyethanol, Triclosan, Triethanolamine.
Results
Ex vivo test: DNA protection resulting in a decrease of p53 protein following UV irradiation for doses equivalent to 1 MED (strong sunshine).
Effectiveness proven on 42 days on 20 women between 50 and 70 years old:
Improves the skin microrelief (lifting effect); decreases depth and volume of wrinkles and increases elasticity (on 83% of women).
Women have found:
- Their skin hydrated (89%)
- The texture of their skin improved (72%)
- Their skin smoother, softer, more resilient, more beautiful, and have improved in quality (67%)
- Immediately after application sensations of well-being (78%), softness (83%) and comfort (78%) and during the day sensations of smoothness (89%)
Reviews