Action
All skin types
This novel formula combines a skin care cream and a nutritional supplement for deep facial treatment. Ideal for use from the age of 35, it stimulates cellular longevity and growth factors*, the core of youthful looking skin. Night is the time when your body cells rebuild their strength. The face cream works to activate cellular self regeneration at night. It trains your skin's cells to stay in good form and prevents the appearance of wrinkles and brown spots. A biomimetic peptide encourages the skin's repair process to correct the appearance of wrinkles. The nutritional supplement reinforces these actions to repair your skin from within.

Enriched with Complexe Longévité Extrême™.

* Effectiveness proven by in vivo/ ex vivo tests
Dermatologically tested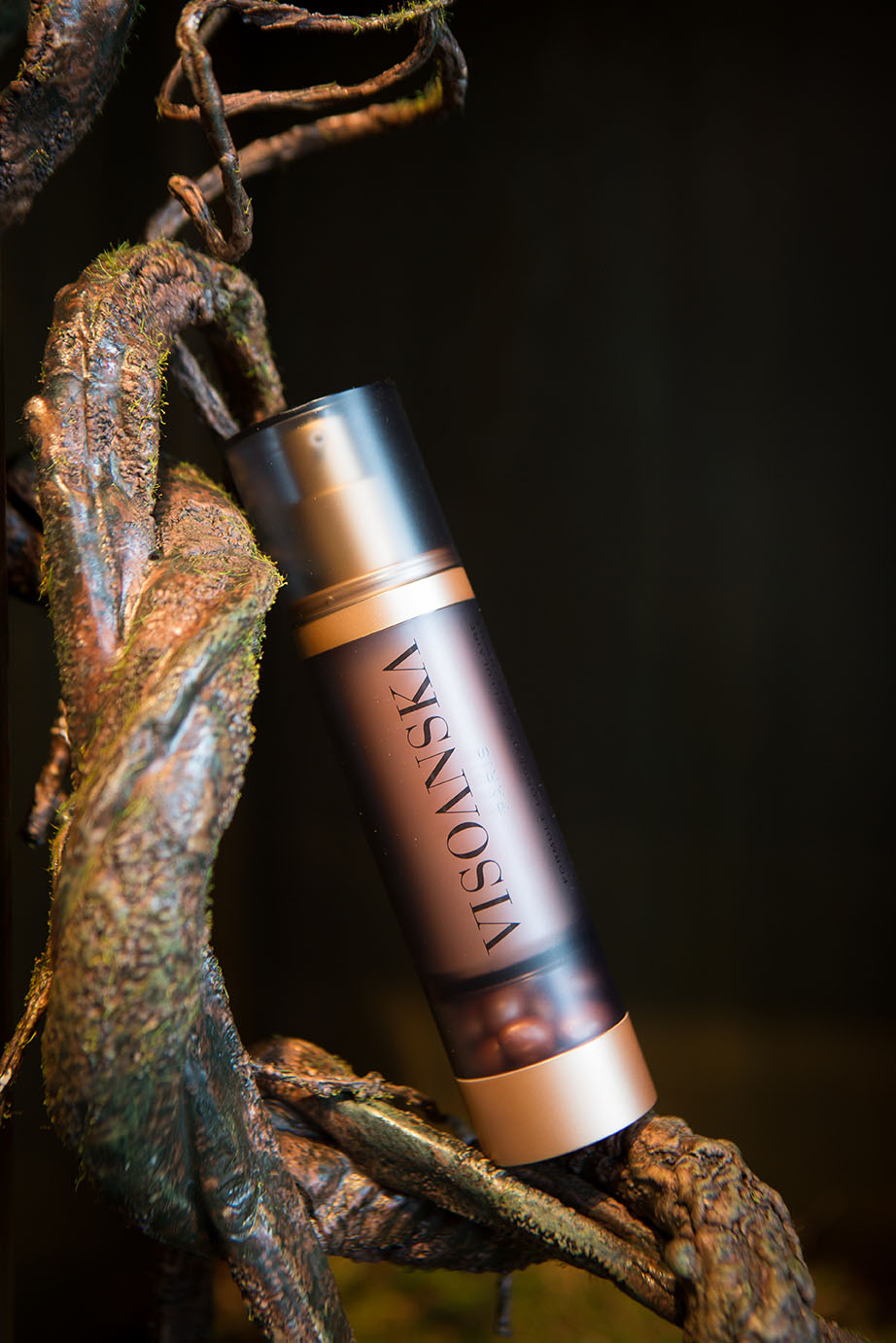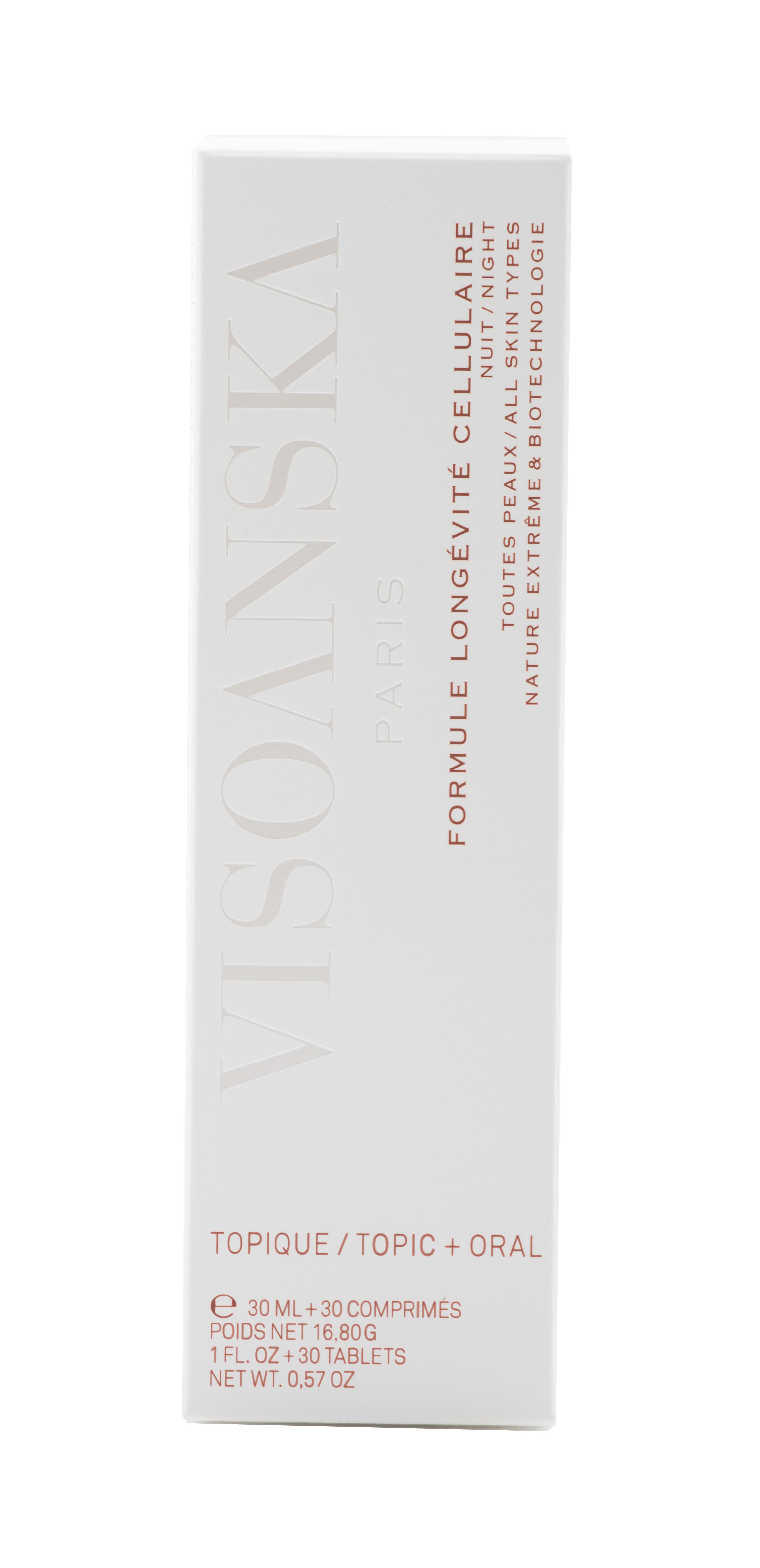 Application
In the evening, apply 2 to 3 doses of cream to your clean face and neck. Lightly smooth in in circular motions starting from the center of your face working outward to the temples. Take one tablet with dinner. For best results, continue the regimen in the morning with our Formule Jour VISOANSKA. If irritation occurs, discontinue use.
Actifs
28 specific active ingredients, 9 patented technologies.
87% of natural-origin ingredients+ tripeptide.
Made in accordance with the Natural Luxury Code of VISOANSKA.
Specific actives:

All excluded molecules :
Benzoates/benzophenones, BHT (Butyl-HydroxyToluene), Formaldehyde and molecules that release formaldehydes, Diazolidinyl Urea, Diethanolamine , Silicones, Colors (FD&C Colours), Hydroquinone, Hydroxymethyl glycinate, Imidazalidol urea, Lanolin, Laureth, EDTA, Compounds containing chlorine, Aluminum and Ammonium, Compounds derived from petrochemicals, Mineral oils, Monoethanolamine, Chemical sunscreen (PABA, Ethylhexyl methoxycinamate…), Synthetic perfumes, PEG, Phtalates, PVP, Sodium Lauryl Sulfate, Parabens and phenoxyethanol, Triclosan, Triethanolamine.
Results
Stimulation of SIRT-1, collagen synthesis and GAGs (an important source of growth factors). Increases the number of cells in mitosis.

Stimulation of SIRT-1 expression proven by ex vivo tests:
Formule Longevité Cellulaire presents a clear stimulating activity of SIRT-1 expression (+57%).
Clear regenerating activity proven by ex vivo tests:
The strong increase of neutral GAG, important pools of growth factors, shows that this formula has a clear anti-aging activity on the papillary dermis. Increase of 75% of the number of mitotic cells compared to untreated sample under the same conditions, after 6 days of treatment. A clear stimulation of collagen in the papillary dermis.
This light but comfortable cream, is suitable for all skin types.
Reviews